How to get verified
So how do you get verified on XXXCLUSIVE?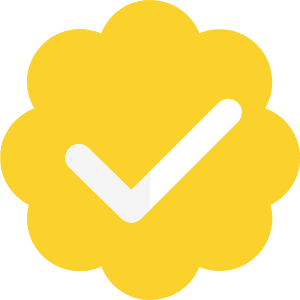 Obtaining your yellow badge is not an easy process, and it should not be! When you sign up to create a profile, you will be required to go through a series of steps to validate your identity. We do this only to check that you are whom you claim to be. XXXCLUSIVE is a secure online environment for people aged 18 and up. You will only be able to use the platform after passing the verification tests; at that point, you will have your yellow badge, indicating that you are now a verified user. This procedure is mandatory for all users who use the platform. These steps also apply to featuring models.
Creating Your Profile
The first step for verification is to create a profile. To do so, enter your Full Name, Email Address, Mobile Number and Password. Make sure the name you submit matches the name on your government-issued identification; otherwise, you may not receive your yellow badge!
Email Confirmation
After you've completed the first step and created your account, you will have to confirm your email address. You will receive a confirmation link in your email; you must access this email and click the confirmation link. This step validates that the email address you chose is yours and that you have permission to use it.
2FA Confirmation
Not only will you need to validate your email, but you will also need to confirm your mobile number. After you submit your phone number, you will receive an SMS with a 6-digit code. This step guarantees that you implement two-factor authentication for account security.
Add Your Card (to subscribe & make payments)
Step four requires you to enter the card payment information you use to make payments on the site. Please double-check that the name you signed up with matches the name on the card. During this phase, it is vital for 3D-secure that all details match. When making payments, you will not be allowed to use someone else's card. A $1.99 Age, Identity, and Card fee are levied during this phase to ensure that all relevant checks are processed.
Document & Identity Verification.
It is, without question, the most important characteristic to consider when creating your account in the last step of verification. Please ensure that you carefully follow the processes while submitting your paperwork. Here is how we make sure you're who you say you are.
1. Users make use of guided prompts to capture images of ID documents using a mobile device or high-quality webcam:
Driver's licenses
Passports
Identity cards
Resident permits
Voter ID cards
2. The images are authenticated through a global network of document verification services, leveraging artificial intelligence and machine learning.
3. Users also must submit a selfie, which is checked for liveness and compared to the image on their ID to make sure it belongs to them.
After passing these important checks, you will then be able to obtain access to the platform and become a verified user on XXXCLUSIVE.
Did this information help? Let us know by emailing support@xxxclusive.com or comment in the comments section below!