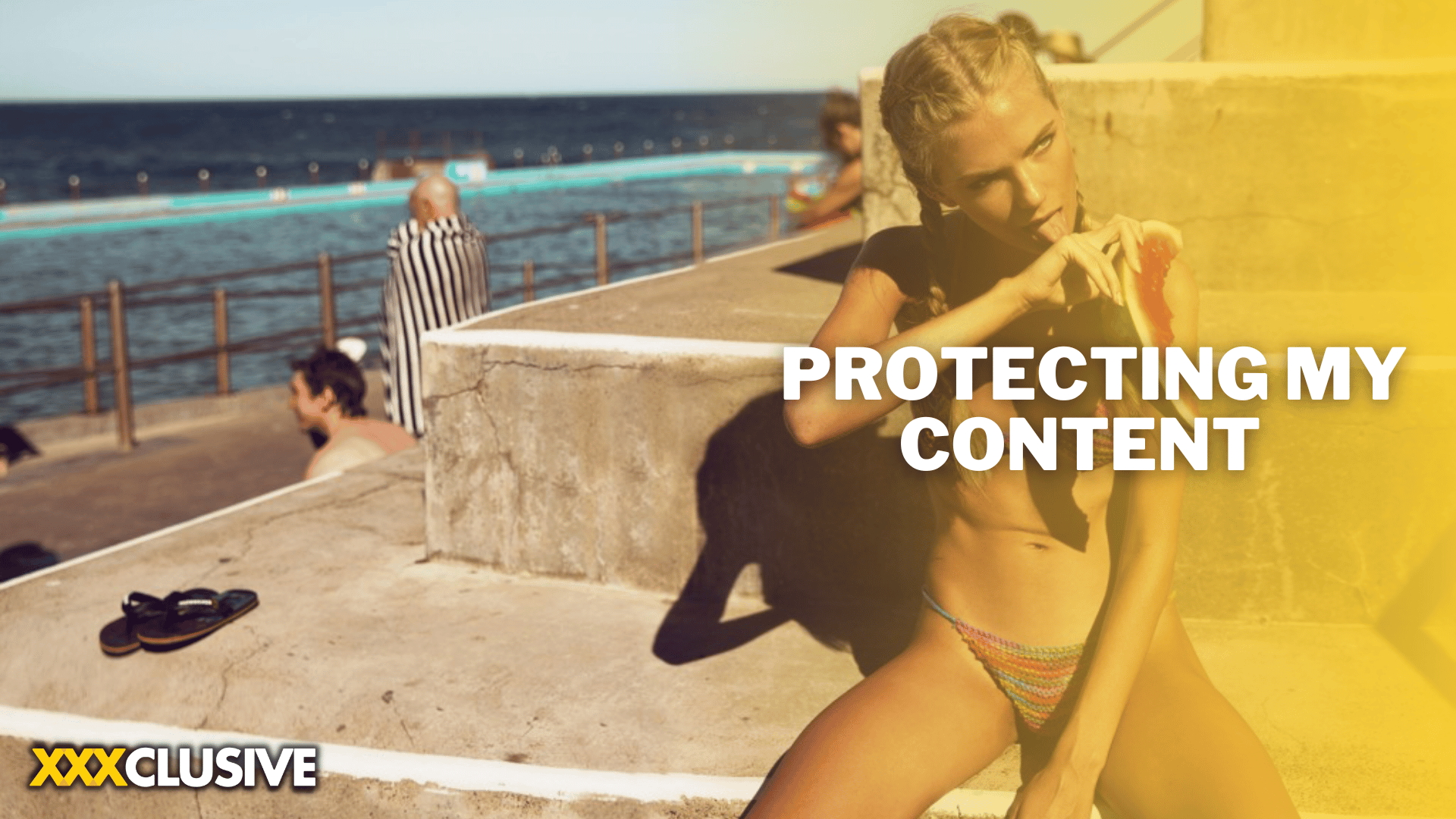 Protecting my content
One of the many attractive advantages of being an XXXCLUSIVE creator is the ability to promote your work and create closer ties with your most devoted fans. Many of our creators have commented how XXXCLUSIVE has given them a strong sense of community and a place to grow and thrive, and we are happy to hear such great feedback in such early days.
Furthermore, thanks to the multiple intrusion detection and prevention solutions accessible on XXXCLUSIVE, we're committed to keeping our creators' work and data secure. Adding watermarks to your content will add ownership to your posts and videos, as well as keeping your XXXCLUSIVE account private so you can control who can (and cannot) see it.

DMCA
The crew is here to aid, support, and protect all XXXCLUSIVE creators and help prevent any potential copyright issues. Only our creators have free access to our specialized and proactive DMCA team. The department works hard to detect and report copyright infractions and remove copyrighted information as soon as possible, especially if the postings or videos have a watermark. The team does this to remain on top of any problems and give our creators peace of mind. Furthermore, we have a DMCA Takedown Policy in place that contains several restrictions and criteria to safeguard our authors from copyright infringement, as well as a dedicated DMCA staff that thoroughly investigates these situations.
As an XXXCLUSIVE creator, you can prevent copyright infringement by watermarking your photographs and movies ahead of time. If you need to file a copyright infringement case, contact the Support Team and provide all relevant information, including evidence (e.g. screenshots.) Once your issue is registered, the DMCA team will investigate it, take action, and attempt to resolve the situation.
CONTENT PROTECTION
As part of using XXXCLUSIVE as a creator, you can use a variety of tools on the Platform to preserve your content and safeguard your account. Let's take a closer look at these features to see how they can assist, guide and protect your material.
The most critical component to prioritize is a watermark for your work. Users can add watermarks to photographs and videos on XXXCLUSIVE. This tool is a great and helpful way to prevent others from reposting your material without your consent. To do so, go to 'Settings' and select "Watermarks" to allow your account to display watermarks.
You can protect your material in a variety of ways. One approach is to block and limit users who can access your content and stop some users from viewing it. You can hide your activity from other people on XXXCLUSIVE by enabling or disabling your activity status. You can use our Discovery Page and suggestions to make it easier for others to find your XXXCLUSIVE account within the Platform. If you want to go even further, you may make your account private on XXXCLUSIVE and limit who follows you.
Additionally, you can make additional efforts to secure your online identities, such as using a stage name or obscuring details to prevent your material from connecting with your real identity.
In the 'Settings' section of your account, you can enable these features. The content protection choices and restrictive XXXCLUSIVE tools allow you to limit your profile and who views it.
DISABLING SCREEN RECORDING
The limitation of screen recording is one of the most effective technologies on the Platform. So how do we eliminate this? In a nutshell, DRM ensures that video content is stored and transmitted in an encrypted form so that only authorized users and devices can play it back. Before media is streamed, the content must be encrypted and packaged, often using multiple DRM schemes for increased device compatibility.
Digital Rights Management (DRM) allows authors, musicians, movie professionals, and other creators to prevent unauthorized use of their content. Only those with the decryption keys can access the material. These limits and restrictions control what other users can do with the viewed material.
There are many ways to protect your content.
 Having DRM in the PlatformPlatform allows you to:
Make it nearly impossible for users to modify or save your content.

Disable users from sharing or forwarding your product or content.

Restrict or prevent users from printing your content.

Prevented users from taking screen recordings of your material.
Our main aim now and forever is to safeguard you and your XXXCLUSIVE content. We always actively seek alternative solutions that contribute to our safe online environment.
For more help and support, please feel free to reach out and contact the Support Team.